Riding this winter was awesome. Winter was a bust this year which made for poor snowmobiling conditions and my sled just sat in the garage. So we decided to stud the bikes. Traction in most conditions was unbelievable. It did get hairy at times, flying into a corner into loose snow isn't a good feeling, but you learn to ride the changing conditions quick lol
However it made for awesome riding with the bike. Trails were really fast, and conditions weren't great for snowmobiling so we were pretty much the only people on the trails 9 out of 10 times. For those of you who live where there is winter, don't let it stop you from riding, I had a blast and I'm stoked I can ride the bike all year. I really want to try riding a track in the winter sometime.
Letting the bikes cool down over a river, Total ride time that day was about an hour and a half, with about ten to fifteen minutes of crossing lakes.
On the lake ( too cold for mx boots that day
)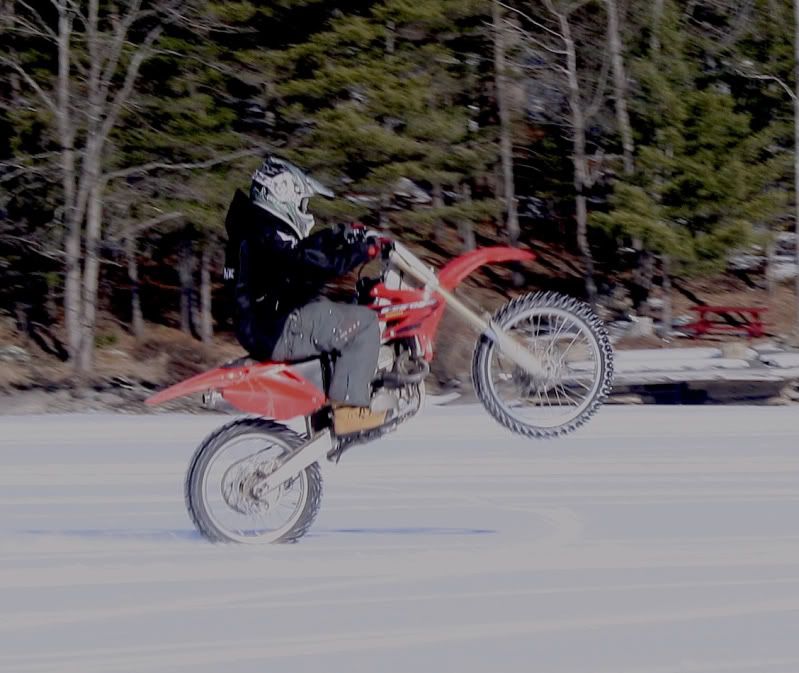 Parked for spoke maintenance, adjust levers (angled too far down in pic), and lower forks into triple clamps to raise the front end.